By @marcrettig
I recently found a box of old cameras in my parents' basement. In it was a Polaroid 660, first released in 1981. I vaguely remembered using it when I was a child (alongside listening to this song by OutKast). Would it still work? What would the pictures look like? I was intrigued to find out.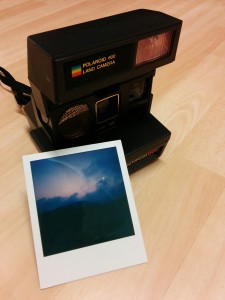 As with many things in life, I looked to Amazon Prime for help (nobody with an instant camera wants to wait a few days for a delivery). Turns out Polaroid still sells films for these models. £14 for eight pictures, or an eye-watering £1.75 per snap. Ouch.
Anyway. Once the film was in the camera, I ventured out to try it. I instantly felt I now belonged to my heroes who spin yarn in the waiting room of a BMW service centre or park their velocipede outside and Apple store. Nailed it.
Taking a picture was a doddle – open the device, press the shutter button, done. Or so I thought, as this was only half the story. The picture needs around 45 minutes to develop, but this only works in a warm environment with no light (put it in your pocket or lay it face-down on a table). Definitely do not shake it! So how about the results?
They were a bit meh. The pictures showed no incredible sharpness, no amazing depth of field, and certainly no high definition. And how the hell do I get them on my Instagram? But that's not the point at all. Paying £1.75 each time you press the shutter release makes you think twice whether a scenery is worth capturing or not. And having to wait to see the result – which could still turn out to be utterly bad – makes the entire process even more exciting.
This made me wonder – have we become too obsessed with taking pictures with our phones? (YES) What's the point in capturing every moment of your life if the ones that really matter get lost in the masses? (Laura, if you're reading this, 350 Facebook pictures from a two-day visit to Copenhagen are way too many!)
I'll give it a try and be more selective of the pictures I take. In January I only took eight and posted one (check it out -> www.instagram.com/marcrettig).
PS: Okay okay, the Polaroid pictures looked pretty hip. It's like somebody had applied an Instagram filter on them. Plus, they're in the same square format. And did you notice that the Instagram logo looks a bit like the Polaroid camera itself? This clearly shows what Instagram was made for – to capture and share moments that matter.