The brief: HRM is an IP law firm based across multiple locations in Europe. We were approached to refresh their website to reflect the essence of their business, promote the careers section and demonstrate strong UX/UI thinking. An integral part of the website was translating it across five languages which brought its own unique challenges. We ended up delivering a fully responsive website via a custom built WordPress template.
The process: I was actually tasked with this website brief as part of my interview process before being accepted within the Nelson Bostock studio team. I approached this brief starting with a UX (user experience) mindset and analysis of the old HRM website to source user pain points within the current user journey. Such pain points included a complicated user journey across various web pages, slow page speeds, and no content hierarchy, making it difficult for the user to find specific bits of content. I developed a new site plan in order to simplify webpages and  streamline content to improve the user journey.
After sitemap approval, I developed a set of wireframes exploring various webpage options. The wireframes demonstrated the concept of repeatable building blocks (text and media elements that can be replicated across various pages to improve overall consistency). I also incorporated cross-pollination of key content and CTA's across various webpages to increase the click-through rate.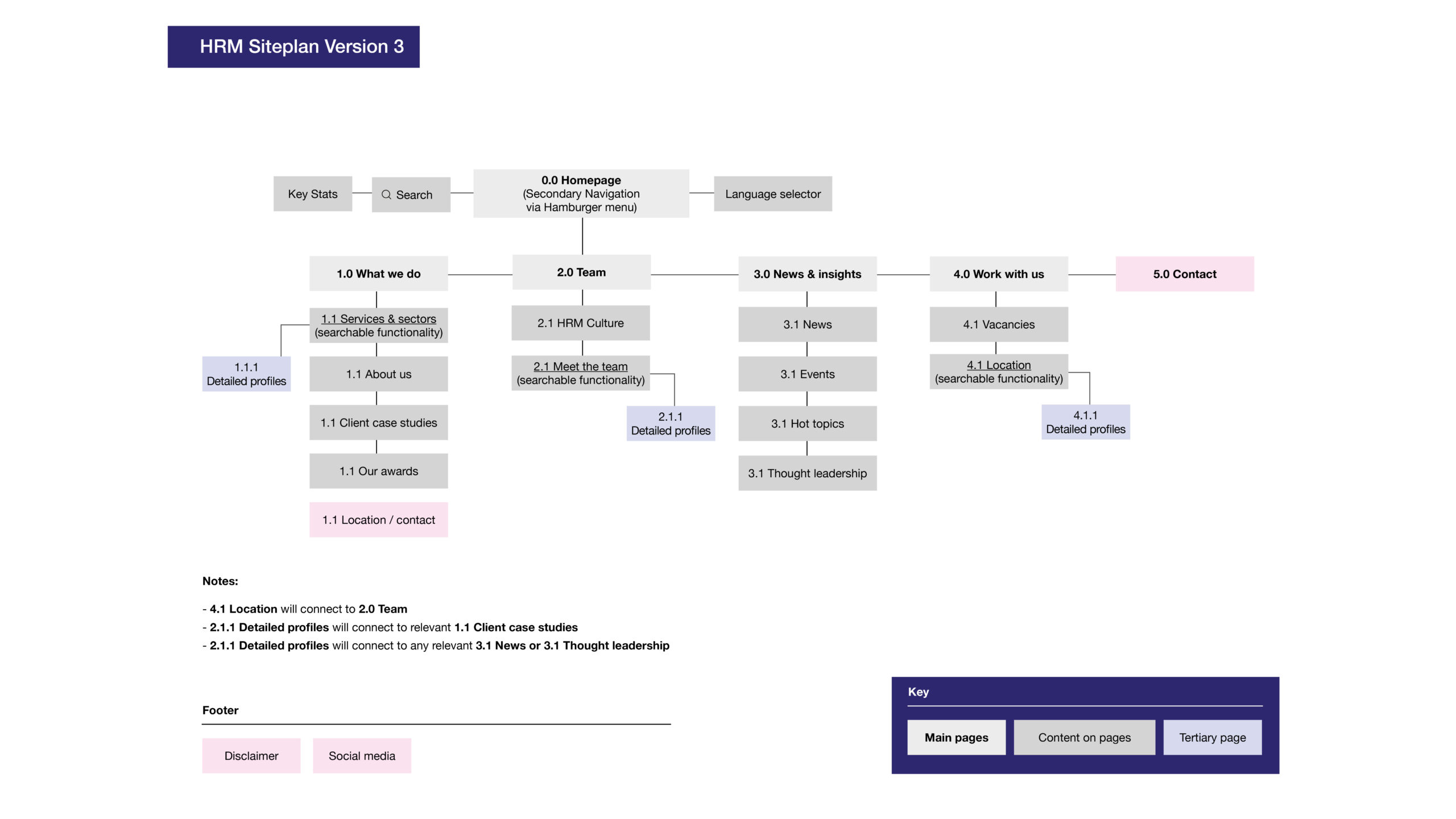 After the UX part of the process was approved, I started developing the UI (user interface) look and feel of the webpages. In order to keep the site modern and timeless, I explored  web design trends and incorporated that into the design. Examples of this include strong accent colours, gradient colour fades, and a minimalist, simple streamlined user interface across all webpage designs. Check out web design trends for 2021 here: https://www.bluecompass.com/blog/web-design-trends-to-watch-for
Along with the UX and UI part of the website, I art directed the photography of the entire site including partner headshots, group shots and showcasing imagery for the industries/practices. Our talented photographer, Dan Wong (from sister agency Fever) was tasked to shoot all 144 partners across various European offices. And our insightful content team including Tim Lines and Rufus Jay aided from a content and SEO perspective.
The outcome: After a mammoth amount of user testing across 180 pages of design we were finally able to hit the anticipated 'go live' button. The fully responsive new website design received praise for the simplified user journey process, faster page load speeds, and striking design which really helped HRM standout as a major player within their field! The new website reduced HRM's average page response time from 1042ms to 517ms (a -50% decrease!). Another improvement was the simplified content and page structure.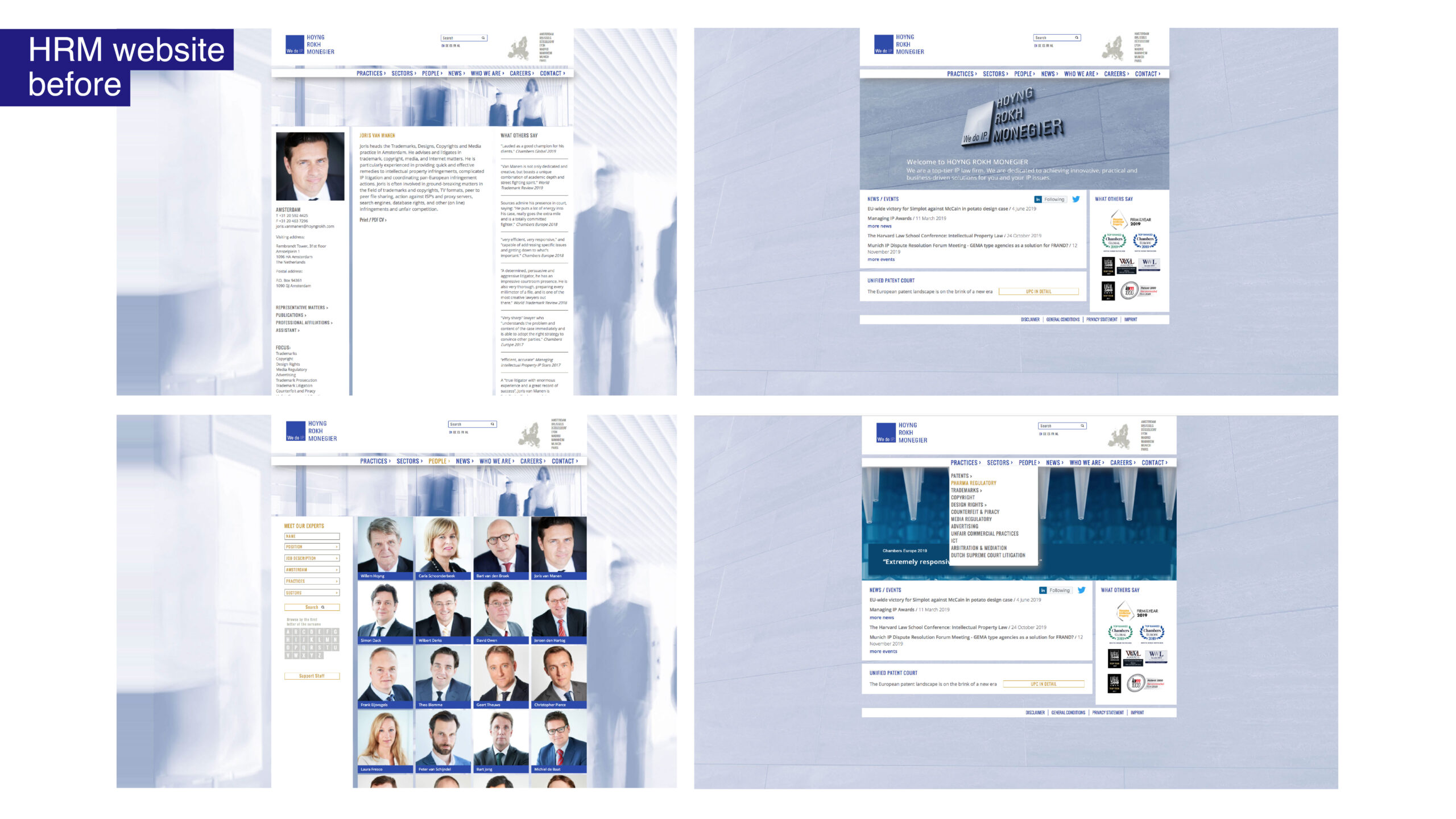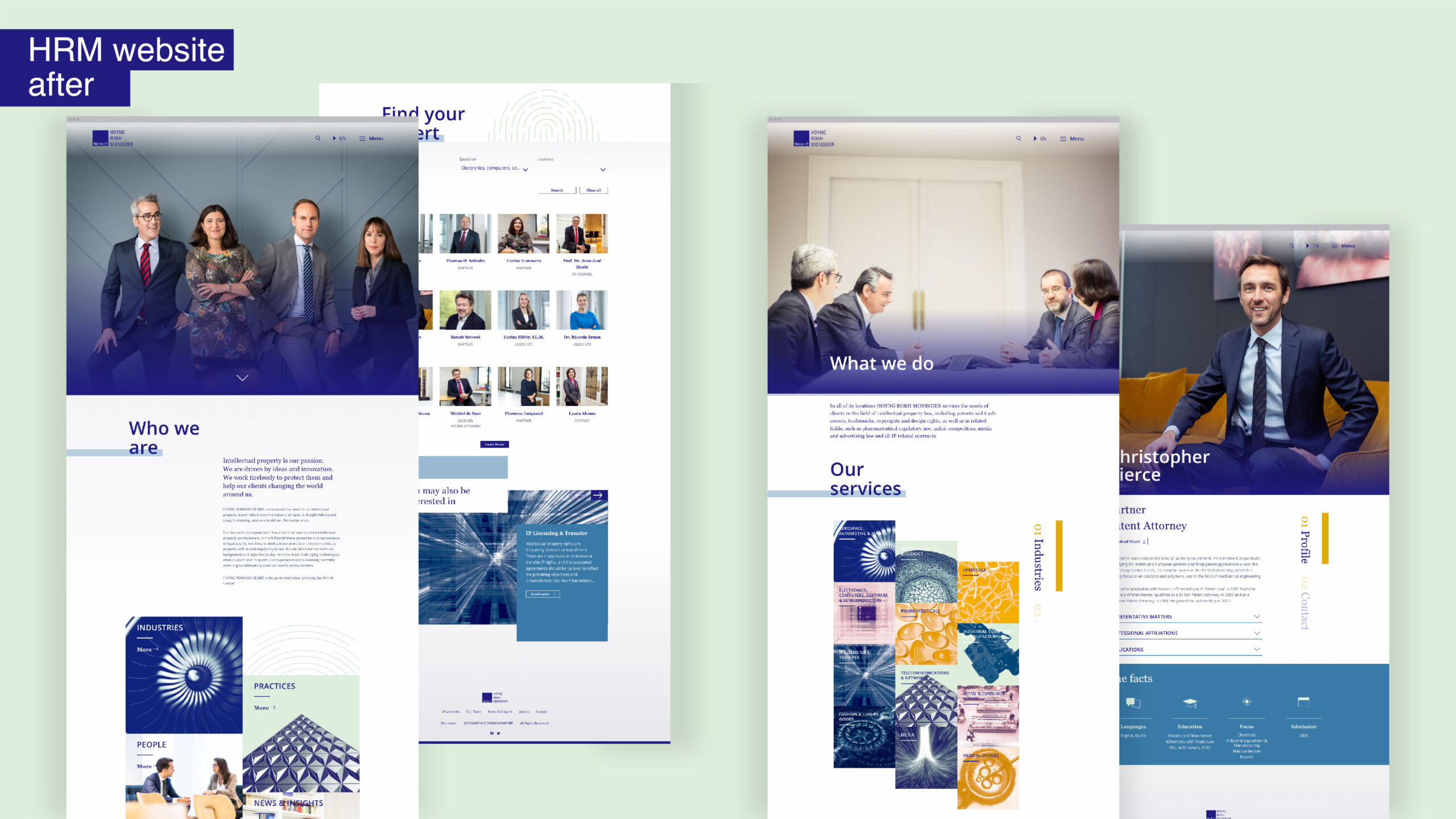 The final part of this project was creating a 'playbook' that acts as a mini brand guidelines for HRM to refer to should they need to build out more webpage designs. Longevity and simplicity is the key term for this project, check out the full website here: https://www.hoyngrokhmonegier.com/