Today we've got a guest post from Toby, on behalf of our incredible digital team, Things. The pictures in this blog post deserve a big shout out to the lovely people at Logitech, and are the superb work of Ricci Chera.
Last weekend saw our first venture to Insomnia as a group – the biggest gaming festival in the UK, and Holy Grail for LAN parties.
Every three months, thousands of people flock to play the newest titles, test the latest gear and watch their favourite gamers in action live on stage.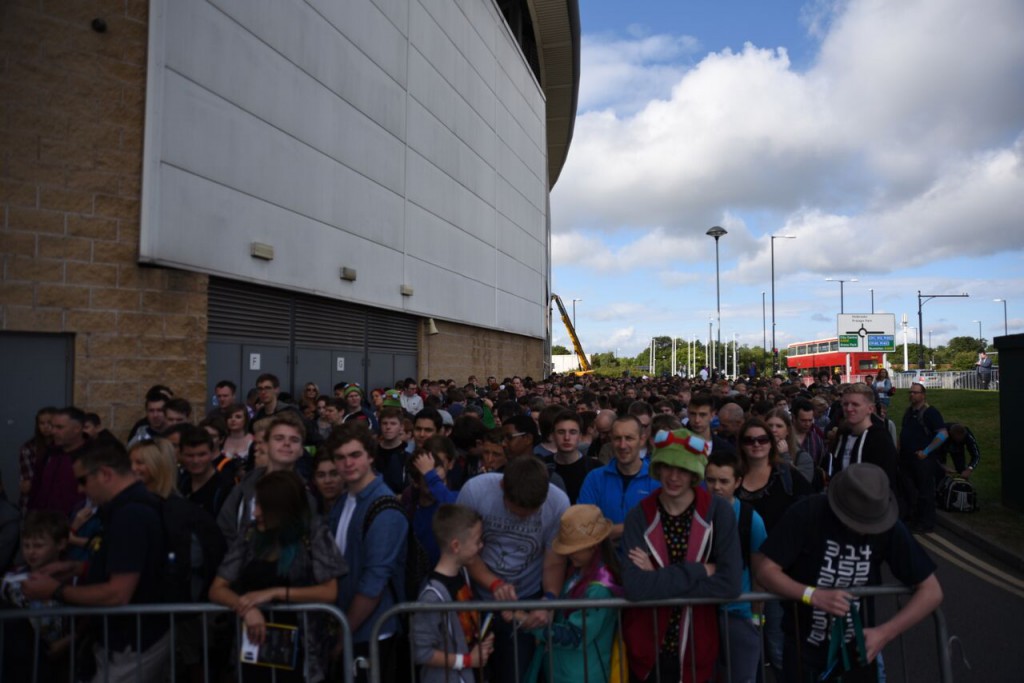 What's that I hear you say? Watch other people play games? Why would people do that? Aside from the ongoing debate of whether games can be art, there are people who simply don't understand the appeal of gaming and its sub-cultures. Jimmy Kimmel did a bit on it recently: https://www.youtube.com/watch?v=Ji9KmXwrA5Y
But it's easy to ignore them. The critics tend to primarily be older, and are people who aren't passionate about gaming anyway. Arguments against gaming hold true for other things, "why do you watch people playing games instead of just playing them" could easily be, "why do you pay a lot of money to watch footballers, instead of just playing football."
Okay, so let's get back to matters and put this in context. Events like Insomnia used to be the go-to place for marathon LAN gaming parties; fuelled by energy drinks, deodorant cans (for some) and a complete disregard for sleep. They were adored (and still are) by legions of fans, but were never recognised by the masses.
Fast forward a few years. The phenomenal growth of Let's Play videos online, spearheaded by YouTube and Twitch over the past few years has seen gaming festivals thrust into the mainstream's view, and with that a new generation of gaming enthusiasts born.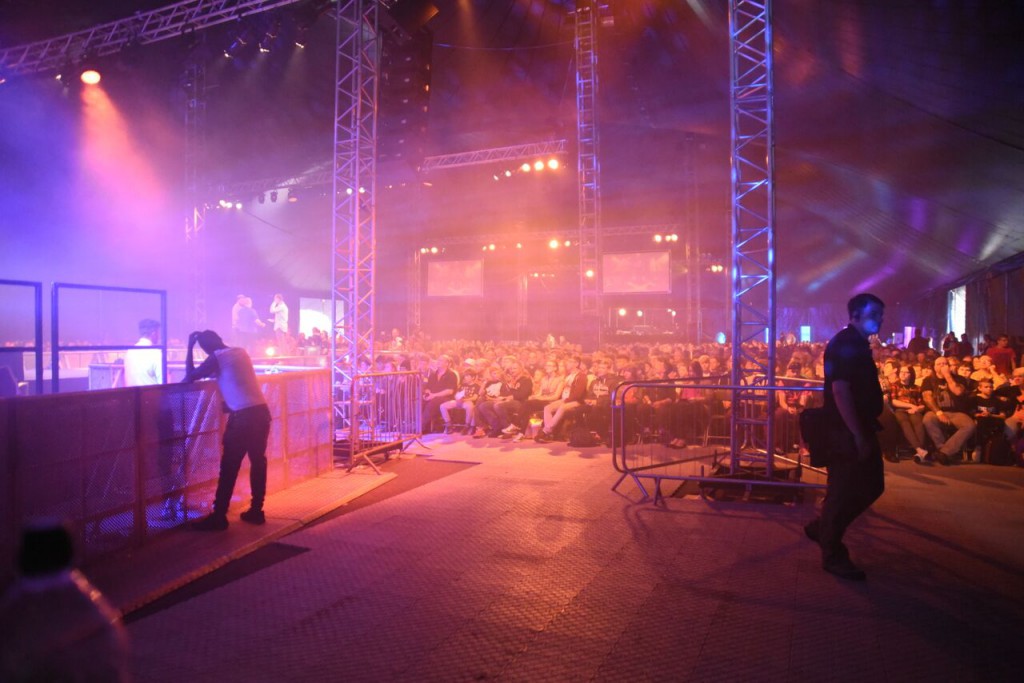 Six of the top 10 most subscribed YouTube channels in the UK are gaming channels and in total, have 15 million more subscribers than the population of our beautiful British Isles. Let's Play is now a multi-million pound industry, and one brands are flocking towards to reach Generation Z with perceived authenticity and social capital.
That's why Insomnia is actually quickly outgrowing its environment. After just 18 months at the Ricoh Arena in Coventry, it's now moving up the road to the biggest expo space in the UK; the NEC Birmingham.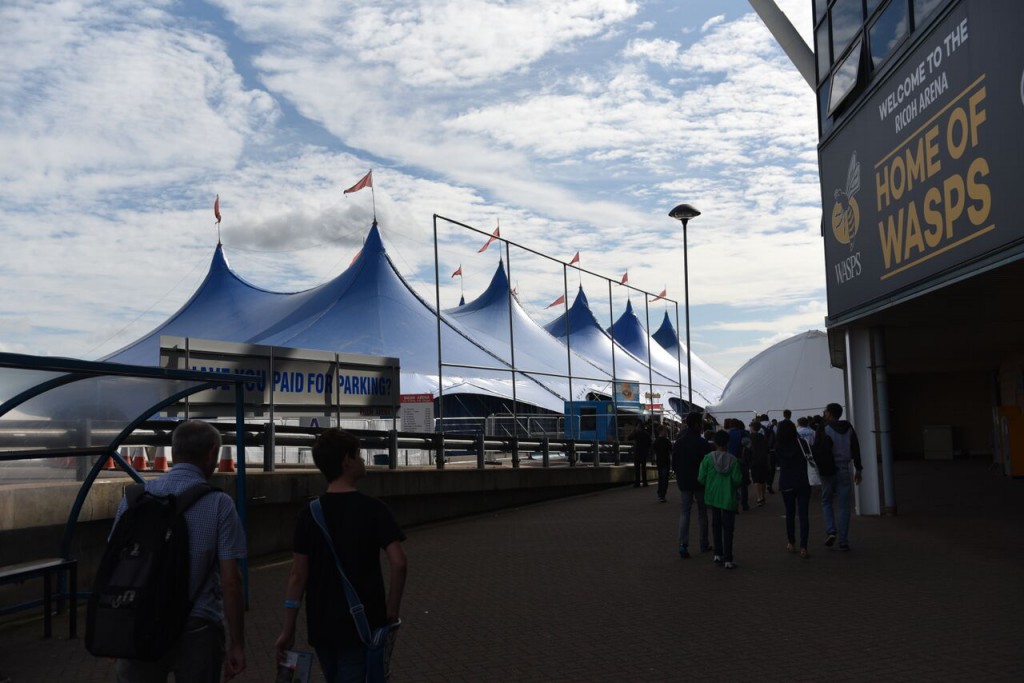 Inside Insomnia
Within our first steps into the arena, we knew it was going to be a manic weekend. You could feel the excitement in the air.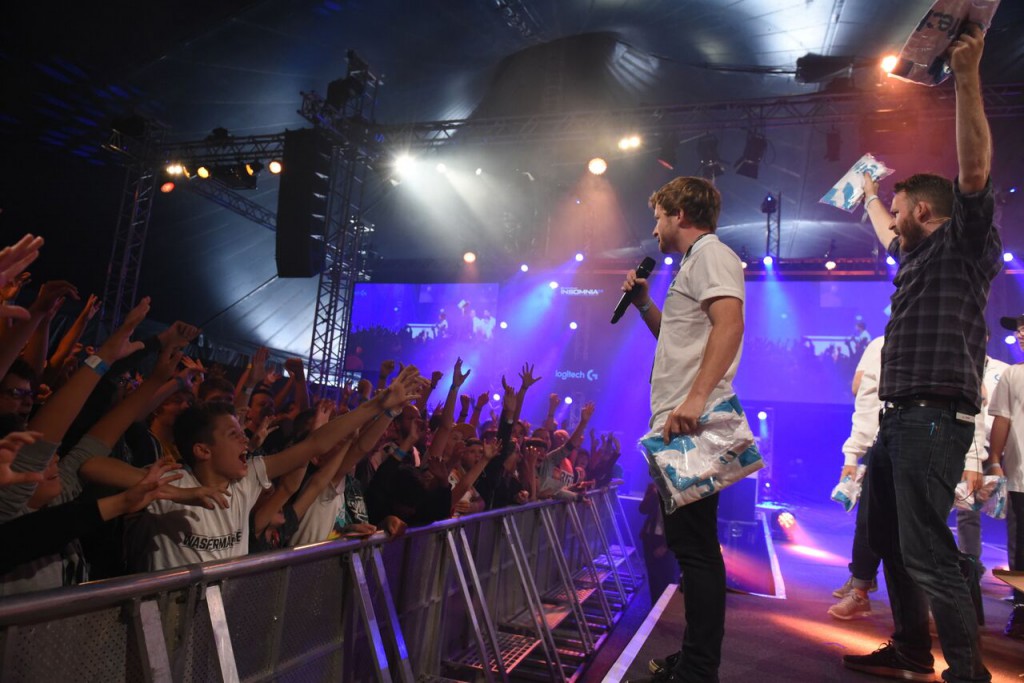 In the main expo arena, streams of people lined the hall with queues extending round corners to snap a selfie with the likes of Syndicate or Miniminter. Between the two stages, hyped crowds went mental to witness their favourite stars go up against each other in Counter Strike:Global Offensive, Minecraft challenges, or zeitgest game of the moment; Rocket League.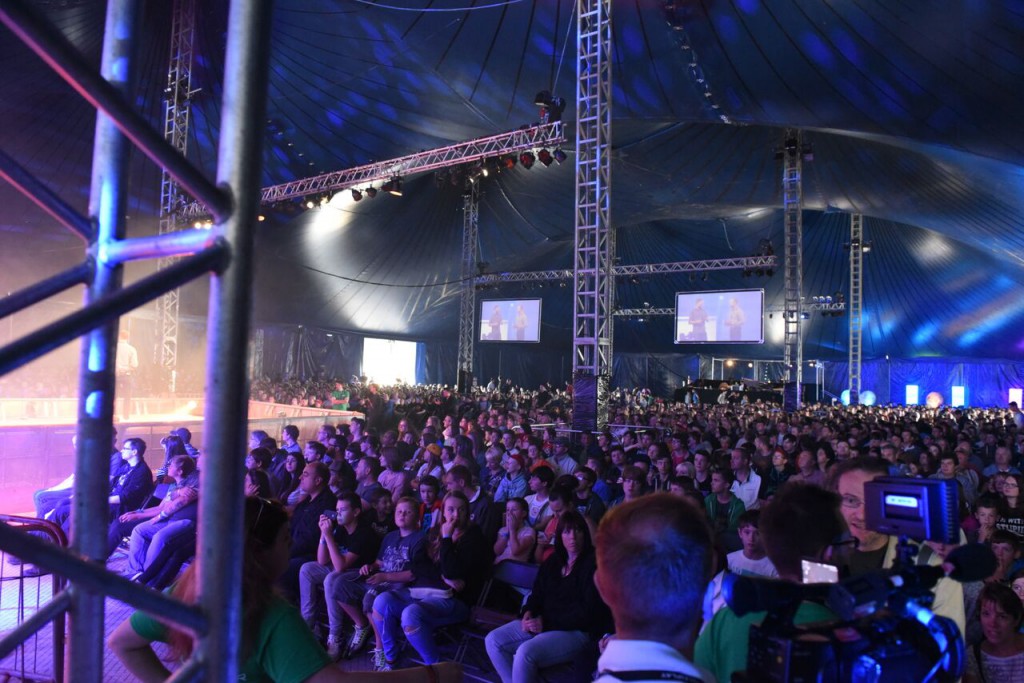 Downstairs saw the hardcore gaming LAN parties kick off with an intimidating buzz of keyboard tapping and curt commands snorted by team members. We hear this lot don't mix well with the upstairs crowd, but that's a whole other story.
Once the day's main activities died down, I got my chance to witness the infamous pub quiz on Saturday. It all sounded very quaint on paper. A couple of drinks whilst guessing which films Keanu Reeves doesn't play a soulless jackass (the answer is all of them cos he's a badass). This was not the case. At all. The quiz – hosted in the main tent – was home to 100s of gamers letting their competitive edge take over. As you can expect, it was absolute carnage.
The quiz took us on to Logitech G's Official After Party, which we – in collaboration with the wonderful team from TMW – had developed a huge game of PONG to keep YouTubers and our guests suitably entertained. The whole thing was controlled entirely by Logitech gear and streamed out live on Twitch.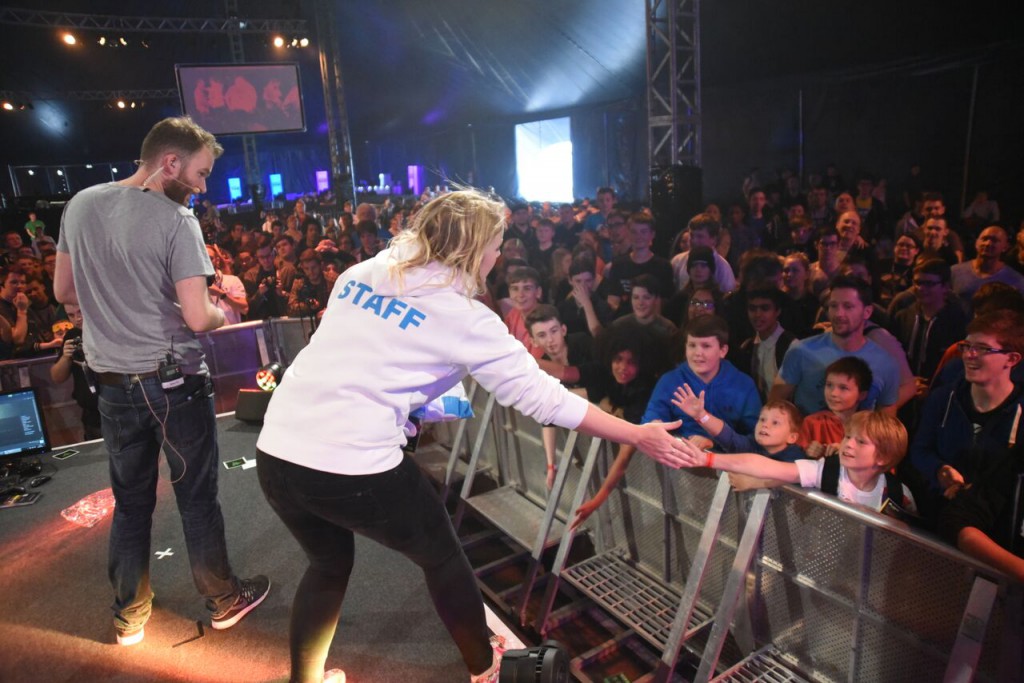 A new generation of influence
After a hectic weekend meeting fans, YouTubers and taking in as much of the show as possible, there were two things that surprised me the most.
I was fully aware of the powerful community that existed online among gamers, but with my jaded stereotypes in hand, I was sceptical how well this would translate to the real world. I couldn't have been proven wrong faster. Tight-knitted comraderies were formed all around me, and whether it was Minecraft or Counter Strike, the sense of collective passions coming together for a major geek-off was genuinely touching.
The second thing that struck me was just how strong the cult of celebrity among the top YouTubers was and how far it has transcended beyond gaming. After their appearance on stage, we witnessed Logitech G's special guests and Minecraft YouTubers LDShadowLady, SmallishBeans and Yammy_xox as they met fans for over an hour. The adoration on people's faces as they lined up for a quick snap or hug is testament to the influence this new generation of entertainers has on young audiences. Relatability, a DIY attitude to one's own success and the chance to make money doing what you love has made YouTubers the decades role models.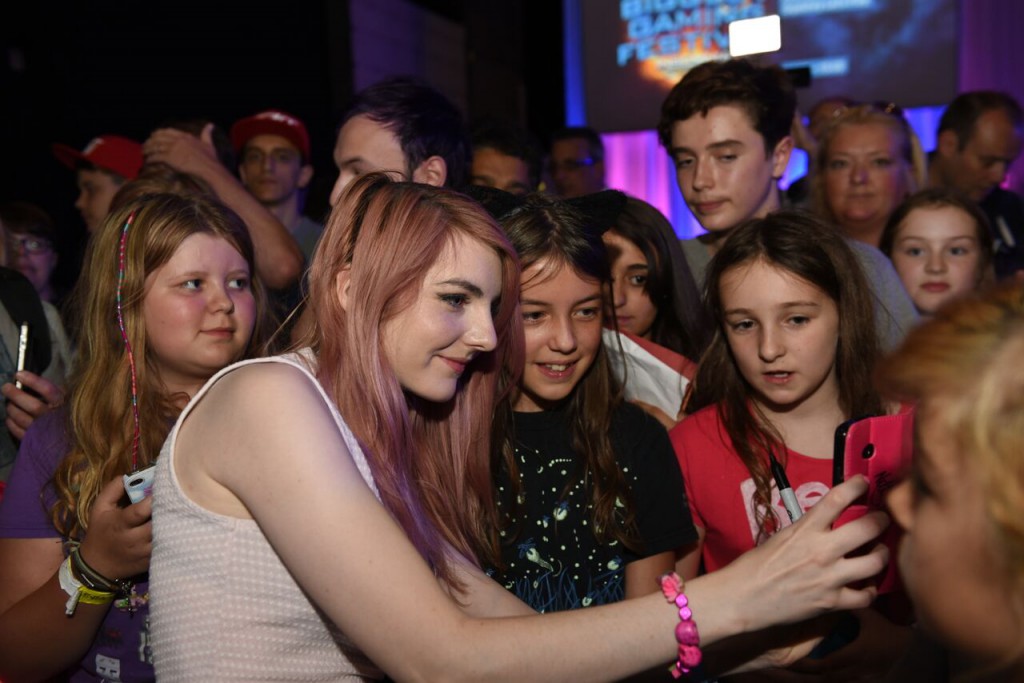 BONUS
For Logitech G's appearance on the Main Stage, myself and Thing's own Emma Skipper we invited to 'hype' the crowd. Check it out below, but just don't ask why the 'box' is a thing…
https://youtu.be/tv0BMyRjnOw?t=16m4s
https://youtu.be/8rYLDEBj-xA?t=27m11s