Today we've got a guest post from Cen, part of our amazing Design team. Cen's been with us for about a year, and has taken some time to reflect on her first twelve months with us.
The first year of Christmas my agency gave to me….
200 Extravagant Office Elfie agency mailers
7 Embellishing EE HTML Designs
6 Quirky Canon Photo shoots
5 Festive Universal HTML Projects
4 Dashing Canon Gift Guides
3 Scrumptious Chocolate Advent calendar (plus another… Hugo's one which was polished off nicely within two days…oops)
2 Funky Christmas Baubles
And 1 Phenomenal Christmas party at the stylish Lucky Pig.
This time last year I was preparing for an interview at Nelson Bostock. The sheer excitement and enthusiasm I had on my face glowed liked a Christmas tree! It was matched as I entered the office floor to see a very creative and festive PR agency. I took a moment to absorb the atmosphere and I knew after a fantastic interview that I belonged here.
And so the adventure began.
I love Christmas, so it was great to leave with an early Present of a new job. It has been an exciting and absolutely packed year. But as it's Christmas, I'll focus on the Festive themes.
'Christmas in July' is strange! Everyone is planning, prepping, and panting profusely for the best and innovative ideas they can produce for Christmas 2015… in the middle of summer!
I was over the moon when I received my first huge project for a Christmas Look Book. It was a bit of a challenge, as my colleagues were eating ice creams and comparing sun tans, to create a design which captured the essence of Christmas. I was really happy with the final product, a frosted cover with delicate decorative icons throughout – it really evoked the spirit of Christmas despite the time of year!
I thought how incredible it is to be designing something like that six months ahead of when the actual event is. Not too long after, something equally amazing happened… we started planning for the the NBG Christmas Party. My love for Christmas meant I leapt at the chance to volunteer to use my passion and creative skills to design the 'SECRET' Christmas Party Invite. This was also a challenge as I'm like an excitable puppy, especially when it comes to festive fun.
We came up with a great theme which allowed me a lot of freedom. I designed a 1920s prohibition invite with a twist – we weren't going to tell anyone where the party was! In the 1920s you had to be careful that the authorities didn't get wind of these types of shindigs!
As this was a secret I went all out designing extras to make it the best kept surprise from all my colleagues. It was hard designing this when everyone was passing my screens, I could hear the whispers… "ooo what's that…it looks like an invite…" but I was able to bluff way through and steer people off the subject.
The party was held at the Lucky Pig, and I wanted the design to have a mysterious clue behind it. I came up with the idea of stamping luxurious gold wax seals on the black envelopes. One stamp was a clover and the other was a pig, but you only got one or the other on your invitation.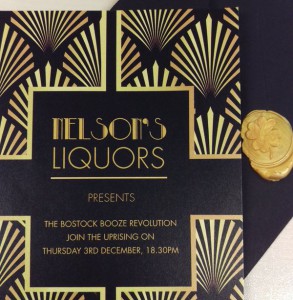 The Black and Gold invite went down amazingly with the agency and everyone was talking, comparing notes and guesses. We love a party, but it was fantastic to see the invitation spark so much chatter. The party itself was also incredible, you can see (the safe) pictures on our Facebook page.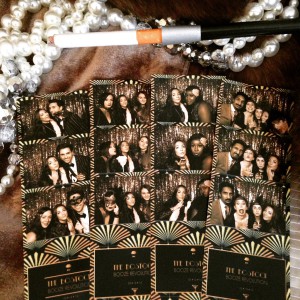 Shortly after that, we began strategising an epic concept for the agency Christmas Mailer. During the creative brainstorm, the idea of the selfie sprung to mind. But we had to make it a festive selfie… so why not, an ELFIE! We came up with the idea of a lavish tube design stuffed full of Christmas goodies. It had to be eye catching but also serve as its own packaging to be sent through the post. It was fun to create, and the Office Elfie was an excellent success with lots of clients participating, as you can see on our Twitter page @nelsonbostock/#OfficeElfie. And we even got coverage on PR Week! This was a showstopper of a project to take part in. The bonus is we now indulge copious amounts of candy canes and chocolate baubles left over from the packing… shhh.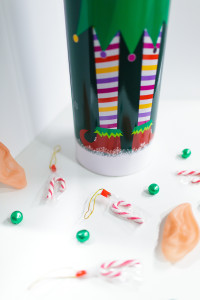 And so here it is, Christmas is almost upon us at Nelson Bostock. This has been an incredibly challenging and rewarding year – one that I would not change for anything. These have all been highlights for me along with working with a fantastic team and enthusiastic colleagues.
Christmas may be over soon, but I'm already longing for Christmas in July, where all the fun and PR madness begins again.