We're an agency driven by a passion for new technology and we're used to staying on top of cutting-edge tech innovations, so it takes a lot to make us step back and have a truly 'wow' moment.
But that happened this week with the launch of the Apple Vision Pro headset at the company's WWDC event.
Rumours have been circulating for a very long time that Apple would enter the mixed reality space, and so expectation was high. After all, we're used to Apple breaking the mould, selling us products we don't yet know we need, but that have the potential to totally shake-up not only how we engage with technology and consume content, but also how we live.
This felt like the next big shift.
In the run-up, it felt like we'd been here before. At NB, we worked with HTC in the lead-up to the launch of the Vive headset and were involved in arranging hands-on demonstrations for journalists. I remember being totally wowed by the experience and with all the content available around the launch.
Coming eye-to-eye with an enormous blue whale as it swims past in an 'under the sea' experience is something that sticks with you.
I've personally dabbled a little more in VR at home. Earlier this year, my family and I had our first look at our new kitchen through a VR headset in the showroom. My 5-year-old daughter had the chance to see how it would look and walked around the virtual space before we agreed to the final design. It helped her to get excited that all the disruption would be worth it. She now asks when we can go back and do it all again (we can't!).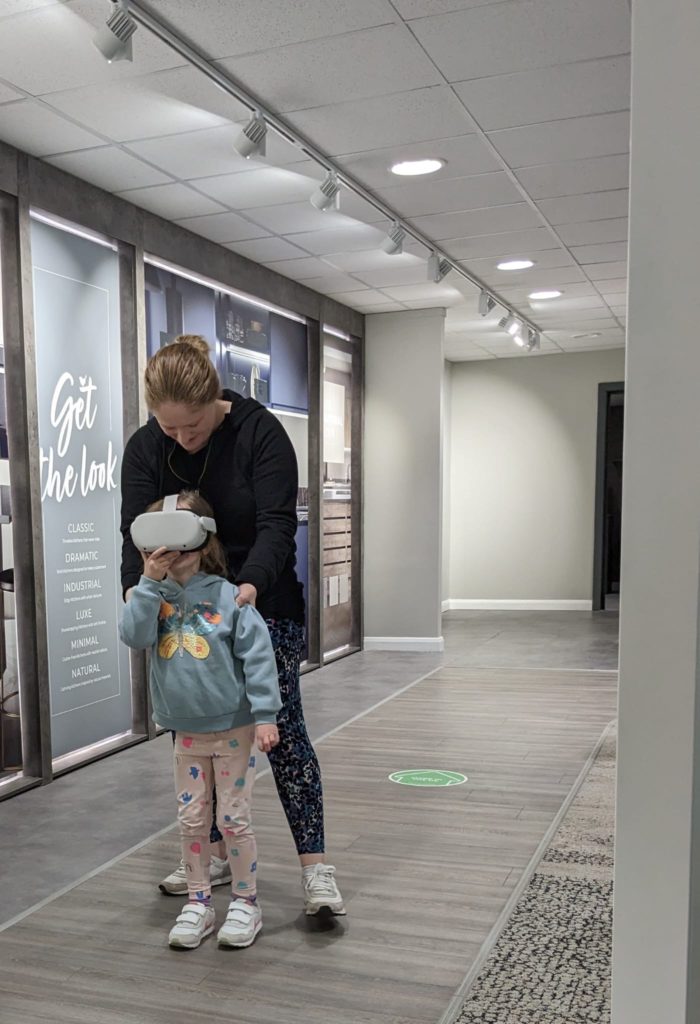 Apple's Vision Pro goes way beyond that experience. Even in the kitchen showroom that day, we still risked walking into walls or desks if we didn't heed the warning that we were stepping out of the defined area quickly enough. I've heard personal stories of friends' kids nearly taking their grandparents out at Christmas because a boxing game got a little too close for comfort. (Thankfully no grandparents were seriously hurt in the encounter.)
At WWDC, Apple showed us how their approach is different. It takes into account that there's currently an invisible barrier where the real and digital worlds collide, and so has been developed to look at the experience as a whole.
Spatial computing, they say, aims to provide a seamless experience which bridges both worlds, and so avoids some of the pitfalls with the current technology.
While the concept of engaging with someone (even one who can see your eyes) through a headset has received mixed feedback so far, it's exciting to see that Apple has tried to push the mixed reality category beyond some of its current limitations.
It's clear that a lot of work by developers, content creators and Apple's marketing machine will need to happen now to create the breadth and depth of experience needed to excite consumer appetite and give this technology real use-cases. We'll certainly be watching with interest to see what else emerges in the realm of spatial computing.