When it comes to awareness campaigns, the clue's in the name – they're about spreading information to help enlighten people. That means they need to be several things: eye-catching, interesting, and informative. As a designer, that's the kind of challenge I love.
World Menopause Day
At both Nelson Bostock and TMWB, our agencies have always prioritised culture; whether it's through team-building socials, open forum meetings or by celebrating awareness days. We feel it's important to provide every individual a voice and ensure they feel wholeheartedly supported by the company in which they work.
Through our newly launched 'Cultural Spotlight' form, individuals can submit topics they feel we should be talking about, and we listen. One such request was for 'World Menopause Awareness Day, which is celebrated on 18th October. It's a particularly important topic, as menopause is something we are all aware of, but seem to know little about unless directly affected.
Our internal DE&I working group involves a variety of people from the agency, passionate about fair representation and workplace development. During our catchups, the team brainstorm and discuss concepts suited to each topic. For World Menopause Day we combined forces with our Unlimited B2B friends at TMWB to create a campaign that would run throughout our shared office space, drawing on the talents of our design, copy, and ops teams.
Designing the campaign
First thing's first, we chose an approach: an informative Guerrilla campaign. We know that spare time to pause and fully digest something new can be hard to come by in a busy office, so we decided to flood the space with information. That way, people could access it wherever they found themselves.
Our plan was to take over our office space with a flurry of information, presented in a series of different ways to ensure people were engaged. The trio of designers in our DE&I committee set to work on an array of posters, interactive games, and table-top stands to be placed on desks, and in toilets, the kitchen and our meeting room spaces.
These are natural hotspots where people to gather during in their day, which is vital. It's not about forcing new behaviours – instead, we modified the usual landscape to draw attention within people's natural workflows.
The look and feel
We employed a variety of graphic design and communication methods to ensure that different thought processes were accommodated, boosting the probability of long-term memory and future recall.
Menopause is a serious topic, but we wanted our campaign to take the taboo out of the experience. The design had to feel informative but – most importantly – fun and approachable. That's why we led with an illustrative design style, combined (of course) with a little of our internal branding magic.
For components such as the '48 symptoms' poster, simple illustrations were key in communicating relatable emotions to the reader, increasing the potential of retained information.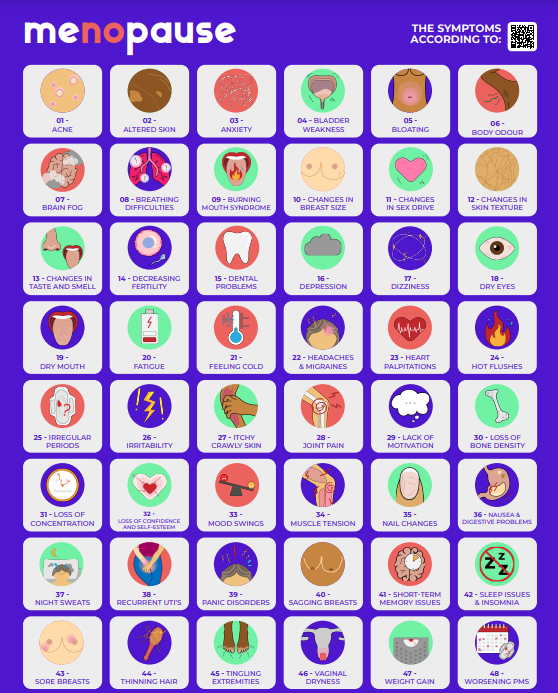 We designed 'Fortune Teller' games (a common playground favourite of the past), which employ 'system 2' type thinking – where the user is more analytical, rational and considered due to participating in an experience – and even our A5 desk stands considered different comprehension preferences of our audience, with guides to useful podcasts, TV programmes, books and blogs.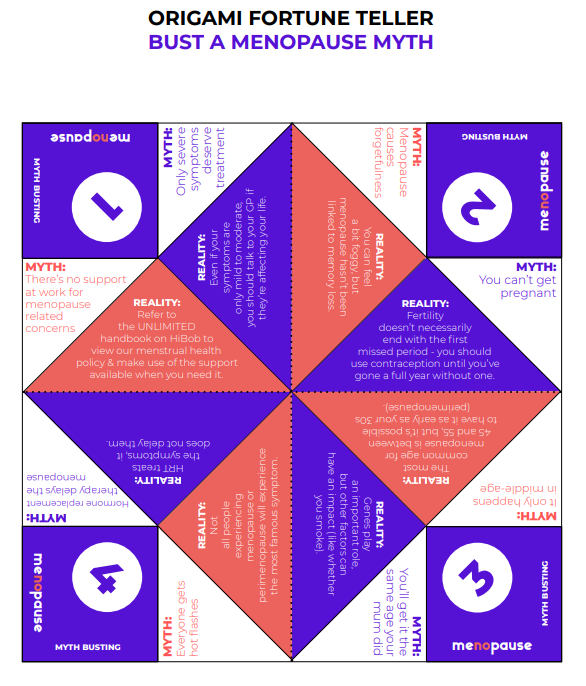 Content in action 
Creating a lasting impact
As fun as this project was, its success depends on how much of a lasting impact it creates.
At UNLIMITED, we have brilliant menopause support readily available, but people affected by menopause (directly and indirectly) vocalised the need to create a more visible support system. And thus, the concept of a discrete 'internal channel' for people to join and share experiences, advice and support was born.
We established key figures within HR networks for people to go to when seeking further confidential advice – taking the uncertainty out of what can feel like a nerve-wracking process – and flagged these 'next steps' in our campaign collateral. Making this information more visible also allowed people to act without having to search themselves, and the easier the journey, the higher the potential uptake.
Passion projects like these are a brilliant demonstration of how dedicated our vast internal network of operations, copywriters and designers are to creating a self-improving internal structure and happier workplace environment. We're firm believers that we do our best work when everyone is seen and heard (and it's always fun to flex the creative muscles on something new.)
For more information about the menopause, check out these brilliant sources:
Podcast: The Dr Louise Newson Podcast
Blog: The Hot Resignation
TV Programme: Davina McCall: Sex, Myths and the Menopause
Report: GenM's Invisibility report
The British Menopause Society: is navigating some misinformation with Louise Minchin and ITN on October 18th: https://thebms.org.uk/news/world-menopause-day-2023/